Important Notice – 3/19/21
Dear Parents,
Unfortunately, there was a misunderstanding on my part when I ordered the Confirmation robes used last November and the First Holy Communion robes used last October.    Just last week the company we ordered from informed me that the robes were rented, not purchased and need to be returned.  Therefore, I ask that if you still have that Confirmation or First Holy Communion robe at home, please return it to me in the Religious Education Office at St. Patrick Parish. Bring it as soon as possible before Friday, April 9.
Thank you sincerely for your understanding and cooperation.
Sister Elenore Joseph, IHM
Aviso importante – 3/19/21
Estimados Padres de Familia,
Desafortunadamente, hubo un malentendido de mi parte cuando ordene las túnicas de Confirmación en noviembre pasado y las túnicas de Primera Comunión que se usaran en octubre pasado. La semana pasada, la empresa a la que hicimos el pedido me informó que no habíamos devuelto las batas porque se alquilaron y no se compraron. Por lo tanto, le pido que si todavía tiene esa túnica de Confirmación o Primera Comunión en casa, por favor devuélvamela a la Oficina de Educación Religiosa en la Parroquia St. Patrick.
Traerlas tan pronto posible antes de viernes 9 de Abril.  Muchas gracias por su comprensión y cooperación. 
Sister Elenore Joseph, IHM
Christmas 2020
Students from Malvern Prep bring Christmas Gifts for First Holy Communion Students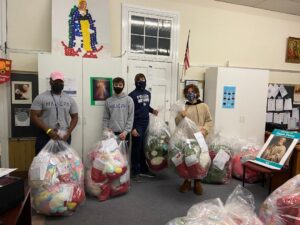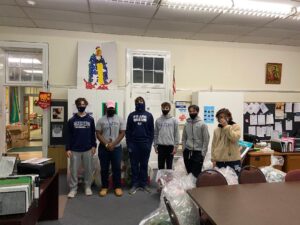 New Dates for Confirmation and Communion (Last year's class)
St. Patrick Parish Religious Education Program 2020 consists of 5 consecutive years of religious formation in the Catholic Faith which includes sacramental preparation for Reconciliation (Penance), First Holy Communion and Confirmation.
The program schedule is the following:
2 years before receiving Reconciliation and First Holy Communion
1 year of Bible Study. This course is obligatory before beginning preparation for Confirmation.
2 years of Confirmation preparation
………………………………………………..
Nuevas fechas de confirmación y comunión (clase del año pasado)
El Programa de Educación Religiosa 2020 de la Parroquia de San Patricio consiste en 5 años consecutivos de formación religiosa en la Fe Católica que incluye la preparación sacramental para la Reconciliación (Penitencia), la Primera Comunión y la Confirmación.
El programa es el siguiente:
2 años de estudio antes de recibir la Reconciliación y la Primera Comunión
1 año de Estudio Bíblico. Este curso es obligatorio antes de comenzar la preparación para la Confirmación.
2 años de preparación de Confirmación
Catecismo: una vez a la semana de 5:00 a 6:30 PM