Important Notice – 8-25-21
NOTICIAS DE CATECISMO

REUNION DE PADRES DE FAMILIA: SEPTIEMBRE 7, 8, 9, 2021

5:00 PM SALÓN PARROQUIAL

Sepembre 7 Nivel COMUNION 1 + Historia de Salvacion (Biblia)

Sepembre 8 Nivel COMUNIÓN 2 + Historia de la Salvacion (Biblia)

Sepembre 9 Nivel CONFIRMACIÓN 1 + CONFIRMACION 2 +

Historia de la Salvacion (Biblia)

5:00 pm en el Salón Parroquial (Entrada por Chestnut St.)

————————————————————————————————————-

CLASES DE CATECISMO COMIENZAN:

SEPTIEMBRE 13 LUNES NIVEL: CONFIRMACION 1

CONFIRMACION 2 + HISTORIA DE LA SALVACION

SEPTIEMBRE 14 MARTES NIVEL: COMUNION 1 + HISTORIA DE LA SALVACION

SEPTIEMBRE 15 MIERCOLES NIVEL: COMUNION 2 + HISTORIA DE LA SALVACION

ENTRADA POR GREEN STREET Y SALIDA POR CHESTNUT ST.

ALUMNOS DEBEN DE ESTAR EN LOS AULAS A LAS 4:50 PM

CLASSES EMPIEZAN A LAS 5:00 PM – 6:30 PM

Se requiere máscarilla antes de ingresar a el edificio.

 
Important Notice – 6/15/21
Dear Parents,
Please pick up your child's Progress Report as well as certificates of First Communion and Confirmation which are available in the Religious Education Office from 9:00 AM – 3:00 PM on Monday through Friday.  Photo packets that you ordered, taken at Confirmation and First Holy Communion, are waiting to be picked up.  You paid $12 for each packet which includes one (1) DVD and two (2) photos.  Additional photos can be purchased for $2.00 each.  When the photographer picks up the remaining photo packets, parents will have to make arrangements to pick them up at his convenience and location.
Masks required before entering the building. 
Children must remain outside the registration office.
Thank you for your cooperation.
Sister Elenore Joseph, IHM
Aviso importante – 6/15/21
Estimados Padres de Familia,
Se espera que recoja el informe de progreso de su hijo, así como los certificados de Primera Comunión y Confirmación que están disponibles en la Oficina de Educación Religiosa de 9:00 AM. a 3:00 PM. de lunes a viernes. Además, los paquetes de fotos que pidieron que se tomaran en la Confirmación y la Primera Comunión están esperando para ser recogidos. Ud. pagó $12 por cada paquete que incluye un (1) dvd y dos (2) fotos. Se pueden comprar fotos adicionales por $ 2.00 cada una. Cuando el fotógrafo recoja los paquetes de fotos restantes, los padres deberán hacer los arreglos necesarios para recogerlos cuando le resulte más conveniente.
Se requiere máscarilla antes de ingresar a el edificio. 
Los niños deben permanecer afuera de la oficina de registro.
Muchas gracias por su cooperación. 
Sister Elenore Joseph, IHM
Christmas 2020
Students from Malvern Prep bring Christmas Gifts for First Holy Communion Students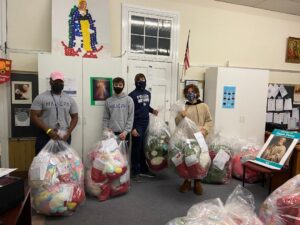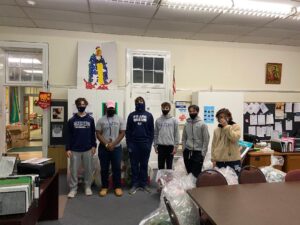 New Dates for Confirmation and Communion (Last year's class)
St. Patrick Parish Religious Education Program 2020 consists of 5 consecutive years of religious formation in the Catholic Faith which includes sacramental preparation for Reconciliation (Penance), First Holy Communion and Confirmation.
The program schedule is the following:
2 years before receiving Reconciliation and First Holy Communion
1 year of Bible Study. This course is obligatory before beginning preparation for Confirmation.
2 years of Confirmation preparation
………………………………………………..
Nuevas fechas de confirmación y comunión (clase del año pasado)
El Programa de Educación Religiosa 2020 de la Parroquia de San Patricio consiste en 5 años consecutivos de formación religiosa en la Fe Católica que incluye la preparación sacramental para la Reconciliación (Penitencia), la Primera Comunión y la Confirmación.
El programa es el siguiente:
2 años de estudio antes de recibir la Reconciliación y la Primera Comunión
1 año de Estudio Bíblico. Este curso es obligatorio antes de comenzar la preparación para la Confirmación.
2 años de preparación de Confirmación
Catecismo: una vez a la semana de 5:00 a 6:30 PM