Christmas 2020
Students from Malvern Prep bring Christmas Gifts for First Holy Communion Students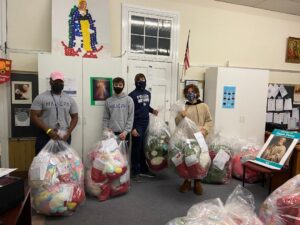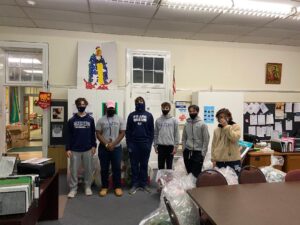 New Dates for Confirmation and Communion (Last year's class)
St. Patrick Parish Religious Education Program 2020 consists of 5 consecutive years of religious formation in the Catholic Faith which includes sacramental preparation for Reconciliation (Penance), First Holy Communion and Confirmation.
The program schedule is the following:
2 years before receiving Reconciliation and First Holy Communion
1 year of Bible Study. This course is obligatory before beginning preparation for Confirmation.
2 years of Confirmation preparation
………………………………………………..
Nuevas fechas de confirmación y comunión (clase del año pasado)
El Programa de Educación Religiosa 2020 de la Parroquia de San Patricio consiste en 5 años consecutivos de formación religiosa en la Fe Católica que incluye la preparación sacramental para la Reconciliación (Penitencia), la Primera Comunión y la Confirmación.
El programa es el siguiente:
2 años de estudio antes de recibir la Reconciliación y la Primera Comunión
1 año de Estudio Bíblico. Este curso es obligatorio antes de comenzar la preparación para la Confirmación.
2 años de preparación de Confirmación
Catecismo: una vez a la semana de 5:00 a 6:30 PM